Thoughts on the Super Bowl at WRHS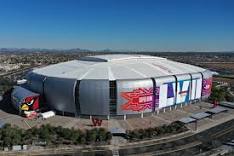 Everyone is always excited when it comes to the Super Bowl. One of those people being Christopher Exum who was rooting for the Kansas City Chiefs. As much as everyone likes to watch the commercials, he was not into them this year so he kept a good eye on the game. Rihanna was the one who did the halftime show and Exum loved it, especially because she was brave enough to sing in front of millions of people and was moving a lot while she was pregnant.
He had a Super Bowl party in the basement with some of his friends and family, but his favorite Super Bowl food is wings. Exum wished that the Philadelphia Eagles made it because his family is from Philadelphia. He loved the game and didn't see anything wrong with the game. He thinks it has been the best Super Bowl for the last 20 years and he hopes to see the Eagles and Chiefs for the next Super Bowl 
Stephen Buhler is a teacher here at Washburn Rural. He is a big football fan as well. He watched the Super Bowl this year but was not rooting for the Chiefs like the majority of people in Kansas. He was, in fact, praying for the Chiefs' downfall. He watched the Super Bowl for both the commercials and the actual game but he said that he wasn't a fan of the commercials this year. 
His favorite Super Bowl food is chili.  Instead of the Chiefs, Buhler wished that the Buffalo Bills made it to the Super Bowl. One thing he didn't like about the game was that the Chiefs won. He didn't go out to parties like many others; he just stayed home and spent the game with his family. He thought the game overall was very interesting. Next year, Buhler is rooting for the Broncos and the 49ers to go to the Super Bowl.
Lastly, Julie Weyer was watching the game for the Chiefs because her husband was making a money bet. She likes watching the Super Bowl for the commercials just as much as she likes to watch the game. When half time came around she thought it was okay but Rihanna could only do so much since she was pregnant, but it was exciting seeing her announce the pregnancy.
In her family, for the Super Bowl, the boys get downstairs in the basement and the girls get the living room since the guys are always so loud when the time comes. Her favorite food from the party are the dips they all bring for the game. She thought the game was very exciting but also very intense when the Chiefs were starting to lose. She doesn't care who's in the Super Bowl next year but she will more than likely watch it because they are big football fans.