Movie Review: Sonic The Hedgehog 2 (2022)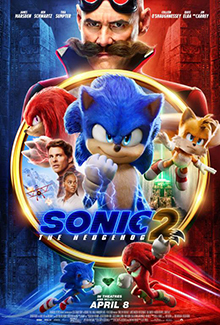 With Nintendo and Illumination releasing the final Super Mario Bros. Movie trailer today, I figured now was a good time to talk about the video game movie that came before it and whose upcoming sequel will rival it.
In 2022, Paramount Pictures released the sequel to their 2020 adaptation of the video game franchise Sonic The Hedgehog, Sonic The Hedgehog 2. It was a huge success, making approximately $190,000,000 at the box office.
The film follows Sonic, voiced by Ben Schwartz, learning what it means to be a hero when Jim Carrey's Doctor Robotnik returns to earth looking for revenge. The film also dives into themes about found family with Knuckles, voiced by Idris Elba, and Tails, voiced by Colleen O'Shaughnessey, reprising her role from the games.
The excellent CGI really makes the fights between Sonic and Knuckles feel like they are extremely powerful, even at their weakest. I also particularly enjoyed how they expanded upon the events that occurred in the past film and set up a third movie in this trilogy with the end credits scene.
The part of the movie that focuses on the human characters, while a little awkward, is still really fun to sit through. I think Sonic The Hedgehog 2 is a fun watch for both long-time fans of the hedgehog and casual viewers and will leave you wanting more of the blue blur and his friends.