Student Spotlight: Olivia Newell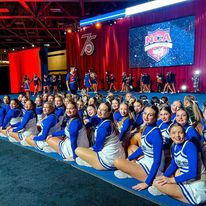 For this week's student spotlight we are focusing on the 2023 Cheer Nationals. Our cheer team qualified to go to Dallas this year where they placed 7th in their division. We decided to interview junior Olivia Newell on her experience at Nationals.
How do you feel about the overall performance?
"I feel like we performed well on the first day, and then we made some changes to the routine and went on to day 2 and performed even better."
"Dallas, Texas"
What would you rate the overall experience?
"I thought it was very fun to get to go to Dallas with some of my best friends, and meet lots of other teams from around the country."
What was your least favorite part about the trip?
"I didn't love the 8 hour bus ride down there."
What was your favorite part of the trip?
"My favorite part was getting to perform for the last time of the season with my team."
Would you say you were impressed by the team's performance?
"I was impressed with our performance on day 2 because we made lots of little changes and I was hoping that nobody would forget them, and nobody did."