WRHS Theatre presents "Frozen"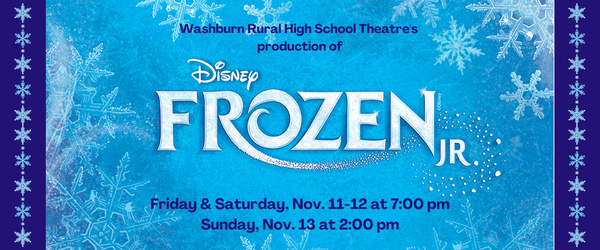 The Washburn Rural Theatre department is presenting "Frozen" on Friday and Saturday (November 11-12) at 7:00 pm. It is also being shown on Sunday the 13th at 2:00 pm. Each show length is just under 90 minutes. 
Seating for the play is general admission. All WRHS certified and classified staff receive a free ticket which can be claimed at the WRHS bank or at the door upon arrival. Any other ticketing information can be found at https://warutheatre.org/ticketing.
Students and staff will be allowed to watch the teaser on Thursday, November 10 during Advisory. Any high school student is welcome to attend. 
Students will have the opportunity to sign up for extra credit at the back of the auditorium in the control booth window.