Supply Shortage: How It Affects Teens Shopping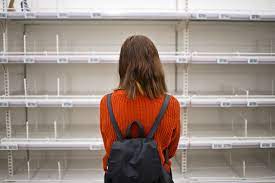 Supply Shortage: How It Affects Teens Shopping 
With the upcoming holidays, teens are wanting to buy gifts for their friends and family. They're looking on the internet to purchase Halloween costumes, birthday gifts, and early Christmas presents. The US receives most of its goods from overseas, including China. Despite the Christmas fever and rush to buy presents, items that people have bought recently haven't left China, and won't be arriving in time for the holidays.  Christmas is coming up in 30 days, it currently takes about 73 days for shipments to arrive at their final destinations when going from China to the US. The longer customers wait to shop the more time they add to their delay of shipment. Even well-stocked warehouses like Amazon and Walmart are still rushing to replenish their inventory levels ever since the pandemic started. 
 As consumers, we are conditioned to buy what we want and need. With the shortage in supplies, the immediate solution would be to consume less. A way for teens to play a smaller role is to thrift, buy locally, and shop early. Shopping locally and through American-made products will help pull the pressure off of the ports and trade agreements. 
We interviewed students around the school to get their thoughts and opinions on the issue. Many of them said that the orders from big companies like Amazon and Target have come in late the past few months. When asked if they shop locally or thrifted, a majority said yes. Supporting small businesses, shopping locally, and thrifting will greatly improve the problem of supply shortage in the U.S.