100 years of Washburn Rural
Hang on for a minute...we're trying to find some more stories you might like.
This year marks the 100th year of school for Washburn Rural High School.To celebrate they want to do everything possible to spread the word and have festivities for both students and teachers.
Because of this monumental occasion, the staff wanted to do something special. Since it is the school's 100th birthday on the 100th day of the year they are having a Birthday Cake Day.
The festivities of the day will include the $100 giveaway and birthday cake given to the students for dessert for lunch.
The 100th day falls on Thursday, Jan. 25th this year. The giveaway will include six randomly chosen students who entered the raffle will be awarded $100 during the school day
This will be one of the more exciting events for those lucky students and for a good cause. To enter the giveaway students had to donate food, or money to the bank so that it could then be donated to Harvesters. These events are helping students be a part of the community both in Topeka and the school. Donating to a meaningful cause appeals to more students and hopefully because of this more will join and donate.
Through this raffle, they have connected the high school world to the real world.
An additional treat that will be presented to all the students will be Birthday Cake as dessert with their lunch.
The committee picked Barbara Astrom to design and make the cake but she could not do it alone.
" I have a remarkable staff that has helped in the making of the cakes and also in the decorating of the cakes," Astrom said.
"
We are thrilled and honored to be a part of such an amazing celebration and such an amazing school"
— Barbara Astrom
Astrom and her team have been working on the cake for several days. They bake everything here at the school and it takes four to six hours to make the cakes depending on how much assistance Astroms has at the time.
Even though the making of the cake is strenuous dedicated work she is excited to do this for the school
"We are thrilled and honored to be a part of such an amazing celebration and such an amazing school," Astrom said.
They also put the design on every cake that goes to students so it will be carefully made with precision and love.
The organization of this special occasion is also an important job to take on. The 100th year centennial committee is mainly in charge of this.
Celebrating the 100th year is a way to get students to realize the history of Washburn Rural High School in a fun and exciting way so more students will hopefully join in the festivities.
The 100th year is a special milestone and the committee sees that and is doing everything to make Washburn Rural's birthday fun and unforgettable.

About the Writer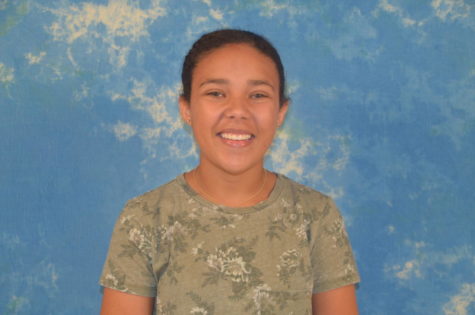 Major Copeland, Page Design/Photographer/Writer
I'm Major Copeland, and  I am a writer on the Newspaper Staff.  I love writing and photography. In my free time, if I'm not writing, I'm taking pictures or watching Netflix. My favorite class is English. I love to read and english is a good medium. I got into newspaper and writing a few years ago and I decided to do it because I want to find out more about the school and the people in it. My dream vacation is to travel to Bora Bora and I am planning to when I graduate from High School. I want to move to New York and hopefully get a career, I want to experience the city and everything it has to offer. I love Panera and would go there every day if I had the choice. I love cats and have one, her name is Bunny and I do not know what I would do without her.