Student wins art award
Hang on for a minute...we're trying to find some more stories you might like.
On Nov 10 the AP Studio Art Class at Washburn Rural High School attended the annual High School Art Day held at Washburn University. The day is filled with activities including a week-long art exhibit of several different pieces that the students created that caught the eyes of several different professors. One piece on display was Senior Brynn Bakers painting entitled "Bread Of Life". This painting represents communion and Jesus Christ. Baker has a very close relationship with her faith and wanted to paint something that showed that.
"My Christian faith is really important to me so I wanted to do something that exemplifies that and directly show it," Baker said
Baker's inspiration for this piece was to display her relationship with faith. The objective of the project was to incorporate hands in some way in order to symbolize how Baker has a close connection to her Christian faith.
The award came with a full array of art supplies including brushes and paints. Baker was recognized for the Best Original 2D Artwork.

About the Writer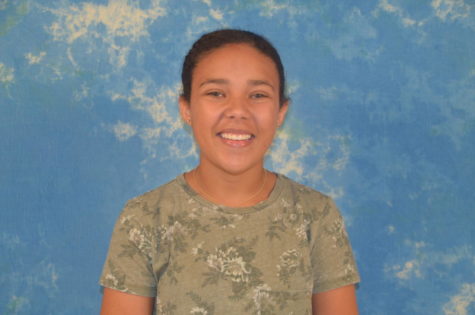 Major Copeland, Page Design/Photographer/Writer
I'm Major Copeland, and  I am a writer on the Newspaper Staff.  I love writing and photography. In my free time, if I'm not writing, I'm taking pictures or watching Netflix. My favorite class is English. I love to read and english is a good medium. I got into newspaper and writing a few years ago and I decided to do it because I want to find out more about the school and the people in it. My dream vacation is to travel to Bora Bora and I am planning to when I graduate from High School. I want to move to New York and hopefully get a career, I want to experience the city and everything it has to offer. I love Panera and would go there every day if I had the choice. I love cats and have one, her name is Bunny and I do not know what I would do without her.