In the Tall Grass Review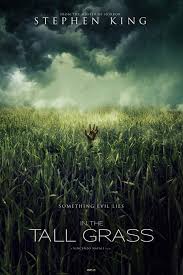 Lauren Miller, Writer
November 11, 2019
Stephen King is known for creating unique stories with a multitude of twists and turns. Therefore it is only natural for a movie based on his novella, In the Tall Grass, to be just as jarring and thrilling. The movie came out on Oct. 4, 2019 following the novella's release in 2012. 
King wrote the novella with his son, Joe Hill. It was originally published in two parts in Esquire magazine. The novella pairs nicely with King's other horror novels and his affinity for the genre. King is often associated with horror/mystery thrillers and In the Tall Grass is no exception.  
The movie director announced the adaptation on 2015, exclaiming, "[King and Hill] have transformed an otherwise innocuous Kansas field into a stage for some of the most disturbing horror fiction I have ever read." Another element of the movie that makes it so engrossing is its setting. While much of the movie takes place in a seemingly endless cornfield, the characters are located in Kansas. They even reference the capital city, Topeka, at one point of the movie. They are not simply saying that they are in Kansas, however. KSNT News Chief Meteorologist Matt Miller has a voice over in the movie. He is reporting the weather over a car radio. 
To spoil the movie would be difficult, considering the otherworldly phenomenon that takes place. It begins with brother Cal and sister Becky leaving their hometown in light of Becky's pregnancy. While leaving to meet a potential adopting family, the pair head into a cornfield after hearing a young boy calling for help. What ensues involves mysterious time loops and magical rocks. One cannot begin to explain the plot; it needs to be watched. Even then, the story can be hard to follow, yet that is precisely what makes it so engaging. 
I would highly recommend watching this movie. It incorporates elements of the horror genre with a mysterious plot. Also, how many movies take place in Kansas (besides The Wizard of Oz)? Not many, but this is the rare exception.