Haunted Trail Review
Hang on for a minute...we're trying to find some more stories you might like.
On Thursday Oct. 5, two members of the newspaper staff were given a neat opportunity. Brittney Wilson and I got to experience the new haunted trail, zombie laser tag, and an escape room at Topeka Haunted Woods the night before they opened at Forest Park. .
The haunted hike travels through the 40 acres of woods behind the site and has many volunteer actors dressed up as zombies, hiding in caskets, or standing in the back with a chainsaw. Once you get to the end of the trail, there is a maze you must walk through to get to the end and back out to the "campsite". This event is $15.
After you complete that, for $5 there is another big open ground where you can participate in zombie laser tag. This consists of you walking through a wooded area and waiting for zombies to pop out so you can shoot them with your laser gun. It was compared many times to the Walking Dead tv show. Along with that, On Oct. 7, Jeremy Palko who is an actor from the show made an appearance at the site and met with fans, signed autographs, and posed for pictures to kick off the opening weekend.
To finish off the night, there are three escape rooms available to try and complete. For $10, you and five other people are given 30 minutes to solve the issue given to you. The one Brittney and I participated in was trying to find the cure to an illness and save the others infected with it at the camp. The are also a number of food trucks scattered around the site to eat dinner or get snacks at.
For me personally, this was the first time I have ever experienced anything like this. I thought the trail was very good and had numerous scary moments. The actors did a good job of not getting out of character and finding creative ways to scare people.
Senior Claire Westfall was also able to experience this place on VIP night and had a similar experience as I did. She too had not been to a haunted house or trail before and did not know what to expect. But her love of horror and thrill got her excited for what was to come.
"I would have to say [the haunted trail] was my favorite aspect of the entire park because we all went in as a group and you couldn't see very well but the path was still lit," Westfall said. "That really set the mood but when the actual characters started jumping out and scaring us, that was the best."
I thought the trail was very suspenseful and fun. It was a new experience and I would recommend trying it out. The escape rooms were also fun and challenging, creating a good team activity. The zombie laser tag was not very exciting when we went but I believe it has the potential to be very fun.
You can purchase tickets at the entrance or go to topekahauntedwoods.com and pre-order to save money on a few of the activities. They are also always looking for volunteers to help out as this is a non-profit fundraiser for Forest Park and the Jayhawk Area Council of the Boy Scouts of America. The Topeka Haunted Woods is open every Friday and Saturday in Oct. from 8 pm. until 11 pm.

About the Writer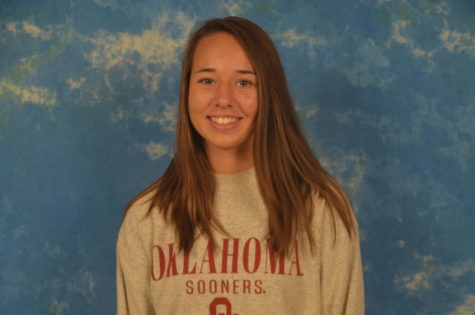 Danielle Pancoast, Print Editor
Hey I'm Danielle. I'm a senior and this is my third year on the newspaper staff. I write, take pictures, and design pages for the paper. I am involved...