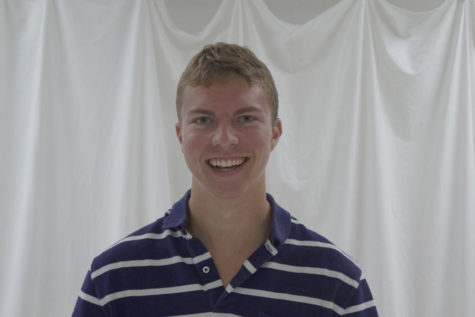 My name is Drew Galloway. I have been on The Blue Streak staff for two years. I used to play basketball, but I have developed knee problems, so now I am a basketball manager. I am the assistant executive producer for a website:
www.wearedynasty.com
. I have season tickets for Kansas State football and basketball. My hobbies outside of school include movies, music (my favorite genre is country), sports and camping.
Drew Galloway, Writer
May 18, 2017

Prevalence of concussions a concern for student athletes

(Story)

May 18, 2017

Chiefs trade up to draft quarterback of the future

(Story)

Mar 29, 2017

Student section supports teams at home games

(Story)

Mar 28, 2017

Students fill out brackets for NCAA tournament

(Story)

Mar 15, 2017

Upset Watch: Teams with Cinderella potential in NCAA tournament

(Story)

Jan 29, 2017

Community mourns death of beloved Royals pitcher

(Story)

Jan 26, 2017

Coaches, players participate in game to raise funds for cancer research

(Story)

Dec 16, 2016

Students expierence journey of recruitment for college sports

(Story)

Dec 16, 2016

Winter sports coaches set expectations for athletes

(Story)

Dec 02, 2016

Boys basketball vs. Olathe Northwest preview

(Story)

Nov 06, 2016

Football extends playoff run beating Manhattan 24-21

(Story)

Nov 05, 2016

Football victorious in first round of playoffs

(Story)

Oct 27, 2016

College football mid-season awards

(Story)

Oct 25, 2016

Washburn Rural vs. Junction City football preview

(Story)

Oct 23, 2016

Brian Hensyel selected to coach in All-American Game

(Story)