WRHS Cross Country Hosts Home Meet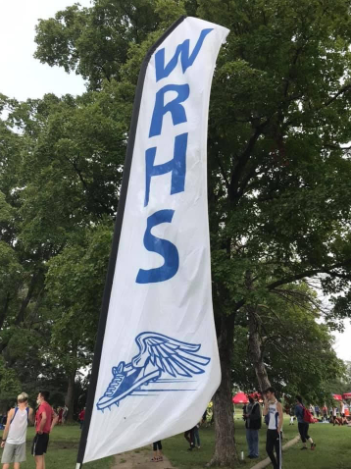 Ethan Shorb, 21st Century Journalism Student
October 8, 2020
The Washburn Rural High School Cross Country team had a home meet on Saturday, September 26.
The boys' team took sixth place in varsity, fourth place in junior varsity, and third place in C team. The girls took home a first-place win in varsity and scored third place in junior varsity.
The team had good competition to face, especially on the boys' side. Three of the five best teams in the state attended the meet, and on the girls' side, they had to compete with Manhattan and Emporia, who are both ranked high in standings. 
Senior runner Jacob Mitchell said, "I thought I raced well but not necessarily my best. My second mile was not on time but I made up the time in my third mile. I felt good prior to the race with having a good night's rest as well as not feeling too sore from the practices earlier in the week."
To a lot of runners, the course seemed long and slow, but things turned out better than expected once the races began. 
"It was actually quicker than we initially thought, which resulted in fast times," said Mitchell. 
Typically, the team would be gearing up to run the Rim Rock Classic in Lawrence, one of the biggest high school meets in the region. However, the meet was canceled, and so the location moved to Washburn Rural High School.
Washburn Rural's next race was scheduled on Saturday, October 3rd, at the Shawnee North Community Center, hosted by Seamen High School.
"The competition for our next meet will be very different," said Coach Matthew Swedlund, when asked about the race beforehand. "This last meet was one of the most competitive meets of the year and our upcoming meet will be mostly local."