Intramural Basketball Wraps Up Season
Hang on for a minute...we're trying to find some more stories you might like.
The intramural basketball season came to a close Feb. 21 with the postseason tournament and all-star game. Goonsquad, Processing, Zookeepers, Prestige Worldwide, Pop Tarts, Vanilla Gorillas, 8 Band$, and The Zebra's made it to the tournament.
The Goonsquad and Pop Tarts competed for the championship. When senior Nathan Gentine fouled out the Goonsquad was left with four players to finish the game. The game was tied as Gentine fouled out. Ultimately the Pop Tarts won and senior Jake Berry was awarded game MVP.
Senior basketball players Armahn Downing and Savian Edwards had the opportunity to pick teams for the intramural all-star game. Participants of the championship were not allowed to compete in this game. After a hard fought game Team Armahn won 61-60 and senior Gavin Downard was awarded game MVP.
The post season awards go as follows:
Player of the Year: JC Crowl
Newcomer of the Year: Joey Blakesley
Freshman of the Year: Drew Mergen
Coach of the Year: Riley Bagshaw
Best Fashion: Wyatt Allen
Hustle Award: Easton Weber
Twitter of the Year: No Flight Whites
1st Team All-Intramural
Daniel DeHerrera (Pop Tarts)
JC Crowl (Goonsquad)
Michael McCartney (PWW)
Drew Keller (Goonsquad)
Manny Aguirre (8 Band$)
2nd Team All-Intramural
Easton Weber (Pop Tarts)
Dalton DeLeye (Zookeepers)
Gavin Downard (8 Band$)
Jalen Ross (Zebra's)
Joey Blakesley (Goonsquad)
3rd Team All-Intramural
Jaydn Hickel (Pop Tarts)
Andre Chaves (PWW)
Shawn Marquis (Zebra's)
Ryan Manthe (No Flight Whites)
Seth Ledbetter (PWW)
About the Writer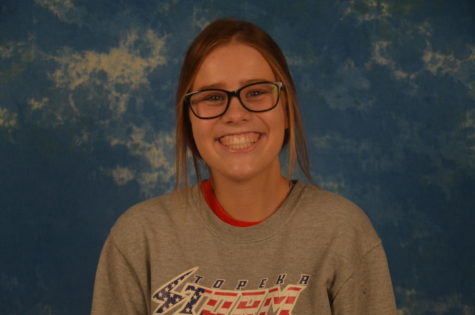 Emily Burris, Online Editor
Hi! I'm Emily Burris and I am a senior at Washburn Rural High School. This is my third year on the newspaper staff. I am the Online Editor and write...