Art Students Hold Lock In
Hang on for a minute...we're trying to find some more stories you might like.
On Feb. 16, the WRHS Art Department held an Art Lock In for artistically motivated students. Teachers in the department select a guest speaker to expand the students' skills in different creative areas.
The artist that was invited this year was Jen Unekis, an artist from Lawrence, Kansas. Unekis kicked off the event by providing those in attendance with some information about the work that she does, and the materials that she enjoys using to create art. The purpose of inviting a guest speaker is to provide students with an idea of how art can be made into a career, by having the story of the guest as a example.
After the introduction of the guest speaker, a demonstration was performed by Unekis in order to expose the students that attended to her preferred form of art. The students were also involved, as they created their own project using the method of Venetian plaster and acrylic paint in the way taught to them by the instructor.
Art teacher Theresa Shetler Logan, whose room the event was held in, explained what she thought to be the benefits of the event.
"We feel that this event is a good way to learn from a local artist and get to know them a bit plus get to know the students better too," Shetler Logan said.
Students enjoyed listening to music and eating snacks over the course of the day alongside learning about and creating art. A break for pizza was also incorporated into the day.
The works created by the students during the event will be shown at NexLynx in downtown Topeka at 123 SW 6th Ave on First Friday Art Walk April 5, and will hopefully be sold to raise funds for Art Lock Ins in the future.
About the Writer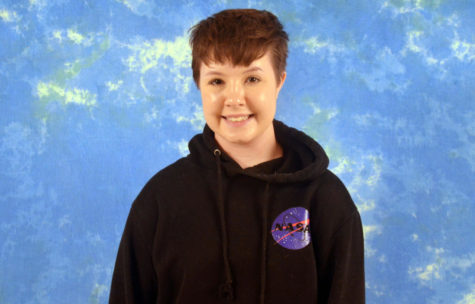 Marta Johnston, Writer
My name is Marta Johnston and I am a sophomore. This is the first year that I am a part of the newspaper staff. My favorite subject in school is English...