Wrestling Season Begins
Hang on for a minute...we're trying to find some more stories you might like.
To start off the month of December, the Washburn Rural Wrestling team traveled down to Leavenworth, Kansas to compete in the 30th Annual Leavenworth Challenger. The team fell short of first by 80 points but brought home a second place plaque and many happy wrestlers.
The tournament had an A bracket and a B bracket. The A bracket was for varsity wrestler and the B one was for junior varsity wrestlers. Competing in the A bracket was sophomores Bishop and Bowan Murray, juniors Caleb Douglas, Gavin Collins, John Vincent, Cole Wells, and Gavin Carter and seniors Caleb Johnston, Dalton Sparling, Jake Brunton, Drake Graybeal, Caden Cress, and Parker Lolley.
The B bracket consisted of freshman Jacob Tangpricha, Trace Lawler, Nick Vincent, and Austin Fager, sophomore David Huckstep, juniors Tagen Stringfield, and Ty Woolington, and senior Jake Wilson.
Starting at weight class 106, returning state champion Bishop begins his season undefeated with a 4-0 record, winning his finals match with a 3-1 decision. Shortly after, Douglas won first place in his bracket by pinning all four of his opponents and having a 4-0 record as well. Collins brought home a third place medal at weight class 120, going 4-1 for the weekend.
Bowan fell just short of a medal, placing fourth and ending with a 1-3 record. John won three of his matches, losing two but placing fifth in his bracket at 132. Johnston also now has a 3-2 record, losing his third place match to end the meet in fourth place.
Wells placed seventh at 145 in the tournament and was not able to get himself a win for this season yet. Sparling took home the 152 pound third place metal and finished at 500 with a 2-2 record. Brunton was able to get his second win for the season at 160 during his seventh place match, advancing to a 2-3 record.  
The 170 weight class for the A bracket was left open. At 182, the team's second returning state champion also had a good start to his season. Carter placed first, earning a 4-0 record by pinning all of his opponents. Graybeal brought a third place medal home for the 195 pound weight class and now has a 4-1 record.
Cress joined three of his teammates in placing first, pinning his opponent in the 220 first place match. Lolley ended the day with fourth place, winning two of his five matches.
The JV side of the team also made a good appearance with first place finishes from Tangpricha, Lawler, Nick, Fager, and Huckstep, a second place finish from Stringfield, and third place finishes from Woolington and Wilson. Everyone in the B bracket was able to bring home a medal.
The varsity team next goes to Neosho to dual against Chanute on Thursday, Dec. 6.

About the Writer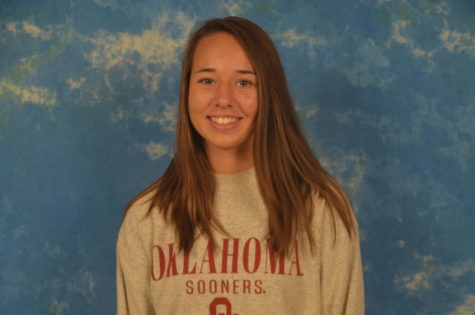 Danielle Pancoast, Print Editor
Hey I'm Danielle. I'm a senior and this is my third year on the newspaper staff. I write, take pictures, and design pages for the paper. I am involved...