Junior Blues Come Out on Top on Senior Night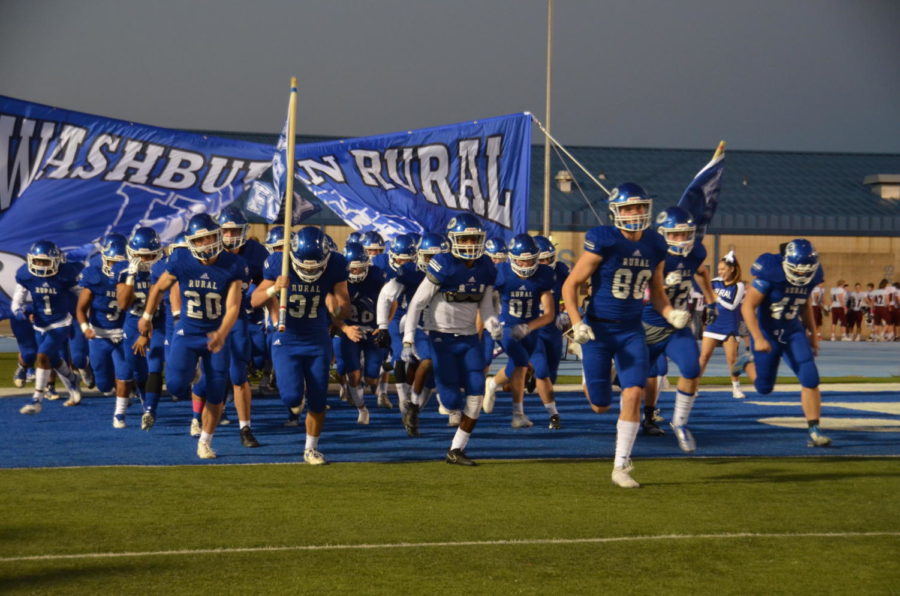 Danielle Pancoast, Print Editor
October 24, 2018
On friday Oct. 19, the Junior Blues hosted the football team's senior night against Seaman High School. With 23 seniors on the team, the Blues pulled out a 20-7 win against the Vikings, giving them their sixth win on the season.
The Blues came out slow, starting their first series with an interception for the Vikings. The Blues however showed up on defense and held Seaman's offense on fourth down. Each team had one more round on offense until Junior Joey Blakesley intercepted the ball for the Blues and ran it back past the 20-yard-line.
Back on offense, Washburn scored the first touchdown with a handoff from senior Jordan White to senior De'Anthony Fulton with three minutes left in the first half. The Vikings followed up shortly after, scoring their first touchdown of the game and ending the first half at a 7-7 tie.
In the second half, White rushed in a touchdown to put the Blues up 13-7 but not for long. White completes another rushing touchdown, this one for only two yards after a blocked punt by senior Tyler Ladson that was recovered by junior Kort Mattison with less than five minutes left in the game. This put Washburn up by even more after a successful extra point attempt form senior Jacob Campbell.
The Blues defense limited the Viking to a total of 140 yards for the game while they finished just shy of 200 rushing yards with 199.
They are now at a 6-2 record, placing them as the number three team in Centennial League behind Topeka and Manhattan High school, their only two losses. They are also the number five seed in the West Region behind Derby, Wichita East, Manhattan, and Topeka High School.
The football team will compete in the first round of playoffs on Oct. 26 at 7:00 P.M. against Garden City High School. If they win this game, they will go on to Regionals against the winner of Topeka and Hutchinson High School.