Washburn Rural students participate in Model U.N.
Hang on for a minute...we're trying to find some more stories you might like.
On Feb. 26-27, Washburn Rural students left their abandoned their American identity at school to represent different countries in the Topeka Model United Nations.
Senior Katherine Rasmussen is familiar with the conference's agenda.
"The first day of the conference starts off with the welcoming ceremony where the officers of each council are introduced and there is a keynote speaker," Rasmussen said. "Then, the delegates split off into a variety of councils to give speeches and ask questions on resolutions. Midday we are dismissed for lunch and then we go back and do it all again. The second day is very similar except there is a award ceremony."
Junior Grant Brooke represented Bolivia, a country he researched his country ardently to prepare for the conference.
"I like learning about different countries and issues that affect the world," Brooke said. "I feel like I presented my country well, because I prioritized Bolivia's economic security."
Sophomore Grace Kessler has is enthusiastic about international relations – an interest she can foster through her participation in Model U.N.
"I decided to participate in Model U.N. because I think it provides a unique forum where students from various schools come together to learn about other countries' cultures and policies," Kessler said.
Rasmussen has participated in Model U.N. since the eighth grade, after being introduced to it by her gifted teacher.
"I decided the join Model U.N. because because I was interested in international affairs and getting to represent a country that I had not even been to," Rasmussen said.
Rasmussen represented the United Kingdom, along with several other Washburn Rural seniors.
"My delegation prepared for the conference by researching current issues pertaining to our country, and writing a position paper," Rasmussen said. "Then, we wrote resolutions to these problems to present to our councils at the conference."
Brooke took a conventional approach to his research.
"I researched my country using government websites and talked with debate kids," Brooke said.
Contrary to her most of her fellow classmates, Kessler served as an officer for the conference. The job of an officer differs from that of a delegate.
"As an officer you do not give any speeches about the proposed resolutions as a delegate would, but your job is to help facilitate the debate in your council in a way that ensures we are spending a efficient amount of time on each resolution and same same people aren't always speaking," Kessler said.
Kessler has several more years to participate in Model U.N., allowing her to oscillate between officer and delegate.
"I probably would prefer being a delegate because I like being able to respond to arguments being made by others," Kessler said. " There is a similar amount of preparation that goes into both because delegates have to research their countries position and officers go to meetings."
Rasmussen would recommend Model U.N. to other students because of the benefits obtained through participating.
"Model U.N. teaches you a lot of important lessons in listening to and compromising with others," Rasmussen said. "It also gives you a platform to practice speaking in front of an audience and meet people with similar interests as you."

About the Writer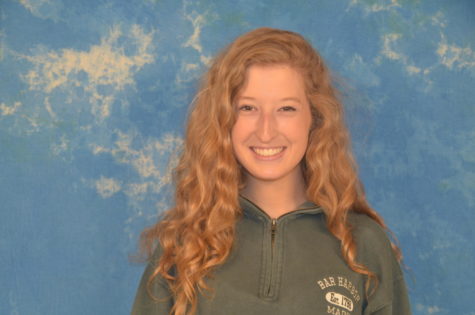 Brittney Wilson, Ads Manager
Hello, my name is Brittney Wilson and this is my third  year on the newspaper staff. I am an avid listener and I love hearing people's stories. I enjoy...