Class of 2017 Graduates
Hang on for a minute...we're trying to find some more stories you might like.
Graduation Ceremony is on Sunday, May 21 at 7:00 at the Topeka Expo Center
Jerry Abram, Alexander Ackerman, Ariel Adams, Joshua Adams, Dante Aguilar-Allende, Lauren Ailslieger, Riggs Allan, Keith Allison, Gage Appenfeller, Catalina Ardila-Rojas, Jennifer Avila Ramos,
Raul Ayala, Olivia Babin, Nicholas Bailer, Aaron Bame, Cassidy Bartholomew, Daniel Beard, Nicholas Beasley, Jesse Bedford, Dafne Bedolla Ramos, Kayla Beeler, Robert Berg, Brittany Bernick,
Justin Beteta, Tre Blanton, Jorgann Bond, Katrina Bork, Alyssa Botkin, John Philip Boyd, Morgan Boyett, Calvin Bradley , Jamison Bradley, Amanda Bradshaw, Destiny Bradshaw, Jacob Brase,
Nolan Brewer, Jack Brinker, Savannah Broadus, Kaitlyn Brooks, Cassidy Brown, Chelsea Brown,
Joshua A Brown, Joshua M Brown, Kayla Brown, Taylor Brown, Hunter Browning,
Nathaniel Brozek, Kevin Bruggemeyer, Sarah Buchanan, Savannah Buckley, Kelli Burton, Griffin Busche, Jonathan Butler, Jordan Byerly, Cameron Calvin, Kolven Campmire, Sherika Carey,
Ann Carlson, James Carlson, Christina Carrington, Benjamin Carson, Taytum Carson-Frederick,
Autumn Carter, Lattrelle Carter, Cody Casebier, Nathaniel Castillo, Krystal Cheung,
Matthew Christian, Jessie Chung, Emma Clark, Isaiah Cline, Brayden Collins, William Collins,
Nathan Conley, Nikolas Connolly, Raven Copeland, Ashlie Cortes, Shelie Cortes, Caleb Cox, Connor Cox, Courtney Cox, Madasun Cozino-Korst, Cameron Cress, Allison Cross, Tiffany Culberson,
Jessica Cummings, Jordan Cummings, Brandon Cunningham, Loren Dailey, Anthony Dake,
Caroline Daniels, Garrett Daniels, Brennan Daughtery, Trey Davidson, Alec Davis, Alex Davis,
Malcolm Davis, Xavier Dawson, Jordan Dawson-Kuntzsch, Elizabeth De Herrera, Ty Deeter-Neal,
Belanna DePreist, Gregory Dew, Tyler DeWitt, Riley Dickerson, Dylan Disney, Ty Disney,
Caroline Doel, Ellis Donaldson, Amanda Douglas, Malachi Douglas, Emilie Driggers, Kira Duenas,
Jodie Dugan, Savanah Dunckel, Dylan Dyck, Zachary Ebert, Coral Edmunds, Je'Shon Edwards,
Carlie Eichkorn, Ethan Eitutis, Mya Elliott, Megan Emerson, Peyton Emler, Joshua Evans,
Sarah Evans, Dakota Ewert, Gabrielle Fager, Sally Fairbank, Clare Fallon, Nathan Farris,
Sabryn Fellows, Mayci Fizer, Pierce Flanders, Cadi Forshee, Ava Fowler, Emma Francis, Grant Frank,
Zoe Franklin, Emersen Frazier, Lauren Fricke, David Fritz, Daniel Funk, Drew Galloway,
Austin Garcia, Cole Gardner, Corey Genton, Luke Gerhardt, William Gerlach, Kalif Ghoston,
Taylor Gibson, Zachary Gibson, Anthony Giddens, Jalen Gilbert, Mikaela Glaubitz, Emily Gleason,
Taylor Godlove, Toby Goforth, Justin Goodman, Ashley Gordon, Elisabeth Graf, Brennan Granger, Shawntavia Green, Spencer Green, Brianna Grim, Theodore Grindol, Andres Guillen,
Neal Gupta, Ali Guzel, Jayden Haag, Alexis Habersat, Courtney Hager, Laurel Haley, Adam Hall,
Margaret Hall, Caitlyn Halsey, Megan Hander, Hunter Hansen, Tallulah Hanson,
Alessandra Harrell, Benjamin Harrison, Erik Harvey, Spencer Hasenkamp, Cole Hawkins, Grace Hawkins, Tierra Hayes, Mariah Hegemann, Jordan Henderson, Robyn Herrera,
Darian Hess, Justice Hess, Jenner Hickel, Hunter Hiegert, Emily Hiegert-Riley, Olivia Hines,
Emma Hixson, Brandon Hoeffner, Cory Hollar, Taylor Hollis, Spencer Howard, Dalton Huggins,
Tateum Hughes, Nathan Iles, Sarah Iles, Braeden Ingold, Cameron Ingram, Ryan Irish,
Daniel Jackson, Jacob Jackson, Vanessa Jackson, Dalton Jacobs, Lukas Jensen, Brian Johnson,
Reid Johnson, Zackery Johnson, Carrie Jones, Seline Kaboudan, Vineet Kallanagowdar, John Katz,
Angela Kay, Ellie Keating, Bethany Kennedy, Jessica Kidwell, Kennady King, Ramon King,
Spencer Klamm, Michael Knapp, Bailee Kober, Amanda Kratina, Conner Krueger,
Darian Kuckelman, Brett Kurtz, Noor Kyasa, Ana Labrador, Cody Ladson, Alexus Lambotte,
Dakota Landis, Alexander Langley, Elaine LaRoche, Sydney Lawton, Danielle Lee,
Noah Leenerts, Benjamin Lewis, Molly Leyda, Alexander Liberato, Brandon Lierz,
Hannah Lingard, Bryson Link, Dawson Link, Caleb Locke, Kylie Loewen, Gabrielle Logue,
Corey Lohse, Brenden Lovitt, Dalton Luetje, MacKensie Lundgren, SaMara Lutz, Veronica Lyle,
Aaron Lynch, Chrystine Lynch, Michael Ma, Jordan Madill, Paige Madsen, Curtis Malsom,
Ciarra Manis, Jacob Martens, Nicholas Martinez, Chessa McCalla, Abigail McCartney,
Jordyn McCaskey, Adela McCormick, Aushaneah McCready, Nicholas McDaniel, Gary McIntosh,
Luke McKenzie, Courtney McMaster, Tatiyana McNeal, Sarah Meenen, Madison Mellies,
Austin Metz, Aubrey Meyer, Claire Meyers, Joshua Miller, Nathan Miller, Jeffrey Mitchell,
Nicole Mitchell, Jared Moege, Kody Moore, Brendon Moreno, Alexis Moser, Adam Mryyan,
Nicholas Mueller, Raini Mueting, Gwyneth Mundy, Francisco Muniz, Avery Munns,
April Murray, Cameron Murrow, Karlye Musick, Colby Myers, Samuel Nabb, Hyung Ju Nam,
Grace Needham, Abbrianna Neely, Aaron Nelson, Cody Nelson, Colby Nelson, Shannon Nelson,
Zachary Nitcher, Teresia Njoroge, Karley Oliver, Alex Pang, Annette Patterson, Nathan Paul,
Megan Peet, Matthew Peoples, Alejandro Perez-Banuet, Jacob Perron, Joshua Perron, Kyle Peter,
Serena Peter, Dylan Peters, Julianna Peters, Marquis Pierce, Cherokee Pitmon, Michael Pixler,
Laiken Podrebarac, Amanda Pope, Lana Prager, Emily Prekopy, Sierra Pursell, Sean Putt,
Samantha Ralston, Mason Ramirez, Morgan Ramirez, Jalyn Rausch, Alex Rea, Adam Reelfs,
Sean Reilly, Jayme Rekward, Rebecca Rice, Haley Richards, Korbyn Richardson, Sayble Rios,
Dustin Roberts, Josi Roberts, Hailey Robertson, Kelsey Robinett, Kenya Robinson,
Leonard Robinson, Ulises Rodriguez, Chandler Rogers, Tyler Rogers, Kathryn Rogg, Madison Roth,
Tyler Russell, Alessandra Salazar, Nathaniel Sapata, Josiah Scales, Kodi Scardina, E. Paul Scharp,
Anthony Schreiber, Katelyn Schroeder, David Schumann, Chase Schwant, Andrew Scott,
Robert Scott, Khalfani Scroggins, Clarissa Seeley, Nathan Selvidge, Stephen Setchel, Derek Sewell,
Daniel Shields, Kelsey Shook, Mallory Shuler, Hope Singer, Dameon Smith, Erin Smith,
Justin Smith, Nicholas Smith, Rachael Smith, Katherine Starr, Ricky Steele, Jonah Stiel,
Jacob Stookey, Rebecca Stormann, Coraleigh Stover, Ethan Strong, Brandon Stueve, Bethany Swim,
Alexis Tanner, Carly Temming, Truman Terrell, Amelia Teter, Nathan Thomas,
Patrick Thompson, Thomas Thompson, Katherine Todd, Levi Towns, Kimberly Tran,
Madilynn Tummons, Jordan Turner, Maryann Turner, Bailey Tyrell, Harrison Ummel,
Katherine Unsell, Bryce Valley, Dalton Van Aalst, Xavier Vazquez, Phoenix Waddell, Michael Wales,
John Walkenford, Brooke Wallace, LVante Wallace, Christian Walter, Brandon Watters,
Kamea Webster, Mesa Weidenbach, Domonic Weigant, Colby Welborn, Mackenzie Wells,
Lillian Wen, Brooklynn Wendt, Benjamin Westrup, Brayden White, Liana White, Sailor Wietharn,
Colby Williams, Jacob Williams, Collin Wilson, Rachel Wilson, Samuel Wingert, Hunter Wolfe,
Sydney Wolferts, John Wonderlich, Jaden Woodruff, Connor Works, Reghan Wostal,
Thunder Wright, Mackenzie Young, Keaton Younger, Marielissa Zelada

About the Writer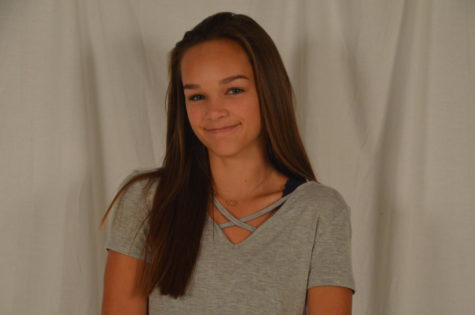 Megan Spangler, Writer/Photographer
Hey! I'm Megan Spangler and I'm a sophomore and this is my second semester on the newspaper staff. I love Great Danes and I'm always listening to...