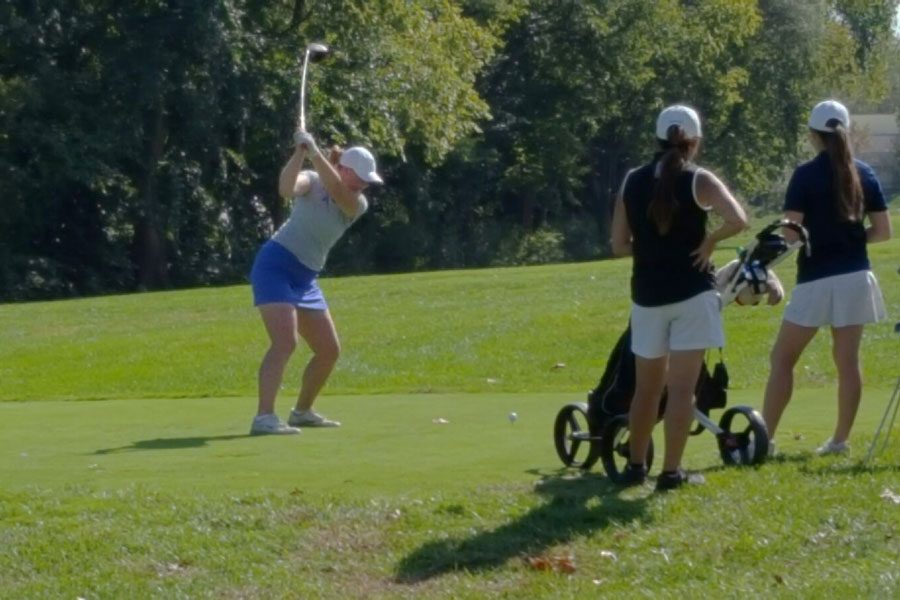 Photo submitted
The girls golf team won the Centennial League meet on Sept. 26 at Cypress Ridge Golf Course.
As a team, they posted a score of 315 which was their lowest of the season by 15 strokes.
Individually, the Lady Blues posted the top two finishers. Juniors Abby Glynn and Megan Lucas finished first and second, respectively.  They also finished with five of the top six individual finishers.
Glynn's score of 74 at the League meet was a career low.
In addition to top individual finishes at the City and League meets, Glynn was named City Athlete of the Week by the Topeka Capital-Journal for the week of Sept. 26 through Sept. 30.
"It is an awesome feeling and I am very thankful that I got the opportunity to have that title," Glynn said.
Golf is different than any other sport. Not only do you compete with your teammates at meets, but you also compete against them.
"The girls are very competitive with each other every day," head coach Jared Goehring said.
After placing second at State last year, the team is hoping to improve upon that finish.
"Our goal as a team is to bring home the biggest possible trophy at State this year," senior Chessa McCalla said.
Looking forward to State, McCalla is looking to utilize her senior leadership to help the team.
"As a senior I want to be able to do my part on the team and encourage my teammates while playing my best as well," McCalla said.
The 6A State tournament is on Oct. 17 at Leawood Country Club.